INFRABIRD™
Access control and monitoring solution for your telecom network infrastructure
Secure your FTTH street cabinets and fiber optic connection with INFRABIRD™
Nexans has developed an innovative solution to help telecom service providers tackle the major headache of unauthorized access to their fiber-to-the-home (FTTH) street cabinets. Known as INFRABIRD™, the intelligent keyless access and internet of things (IoT) supervision system can be deployed in just a few minutes to turn passive cabinets into smart, cloud-connected assets.
Why use INFRABIRD™?
INFRABIRD™ provides smart keyless access and asset condition supervision for street cabinets. The INFRABIRD™ solution is based on low power sensors that connect FTTH cabinets to IoT networks such as LoRa and Sigfox.
With INFRABIRD™, street cabinets can be retrofitted in minutes to provide secure, keyless access control.
1 900 €
Average cost of repairs for a street cabinet per year
2 to 3%
Operator revenue loss in maintenance between the street cabinet and the abutment point
25%
Potential reduction in street cabinets maintenance budget with INFRABIRD™
" INFRABIRD™ helps our customers to improve their service levels by making their FTTH cabinets more secure, as well as enabling them to be more responsive should a breakdown occur. "
Thibault Goulin
Nexans Head of Digital Solutions
INFRABIRD™: demo of the mobile application
How to access INFRABIRD™?
Once installed, the solution allows customers to monitor the status of cabinets, while improving service thanks to better responsiveness in case of breakdowns.
The mobile app provides technicians with location-specific data to facilitate and fasten repair interventions.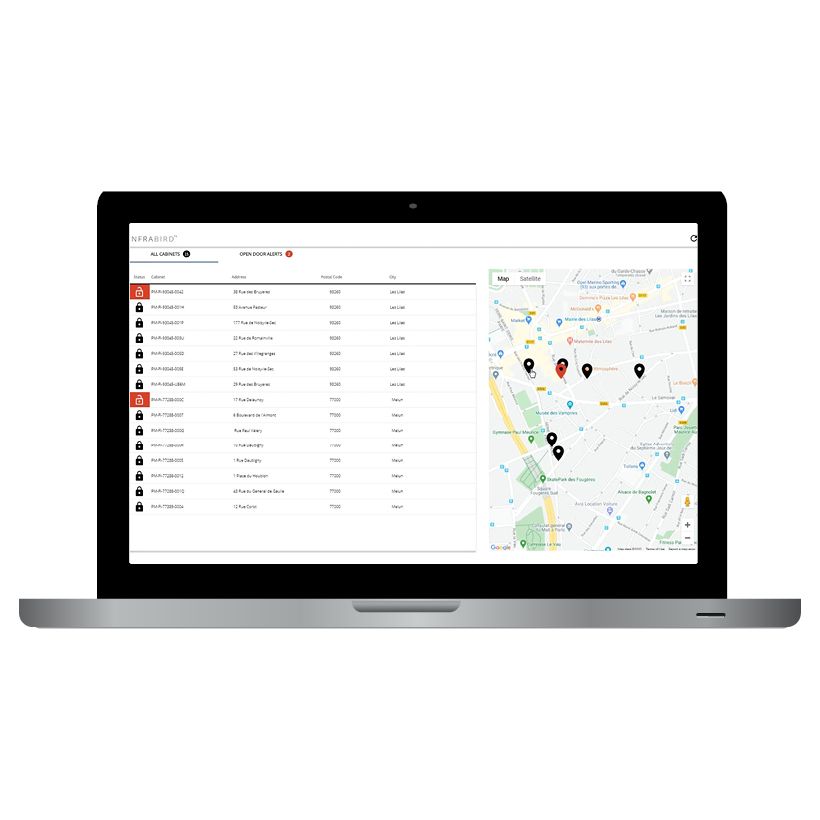 1/ Access through the web portal
Web application dedicated to network supervision allowing:
Access to critical assets status and alerts
Manage user access rights
Access history of all actions performed
Go to the platform to manage your network infrastructure:
2/ Access through the mobile application
Mobile application dedicated to intervention team:
View your cabinet on a map/list, research by address and geolocalization.
Open your cabinets with your smartphone (NFC compatible mobile required)
Download the app: