FR-N20XA8E-R 1x240 Eca N/G BGN8 EDRMAX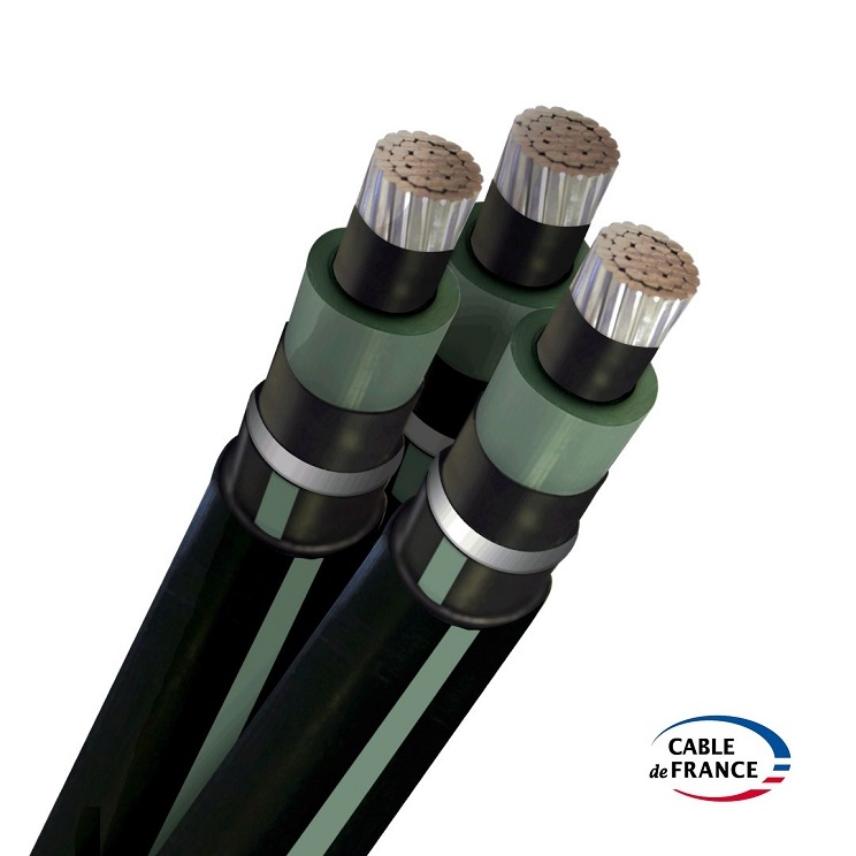 MV Direct Buried cables NF C 33-226
Read more
Nexans ref. : 10265279
EAN : 3427660056999
Description
Description
Standards
International

HD 620

National

NF C 33-226
Usage
EDRMAX® NF C 33-226 Direct Buried cables are the new generation of cables for public power distribution network 12/20 kV. Re-enforced burying resistance (EDR) is ensured with an extruded polyethylene protection. They are flame retardant according to NF EN 60332-1-2. They are AD8 (water pressure < 0,2 bar), AF2 and AN3 complying with NF C 13-200 standard. Both sheaths are anti-termite resistant.
Design
The cable is made of 1 or 3 bunched cores.
Commercial designation
EDRMAX® by Nexans
Laying condition
Burial depth : 0.80 m
Soil thermal resistivity : 1.2 K m/W
Electrical caracteristics
Calculated from IEC 60949, permissible short circuit current is applicable for the conductor during 1s.
Options
NF C 33-226 cables can be manufactured with the following options:
Characteristics
Characteristics
Construction characteristics
Construction characteristics
Material of the inner semi-conductor
Material of the external semi-conductor
Extruded strippable smooth elastomer
Material used for longitudinal water tightness
ALU/PET tape screening foil
Dimensional characteristics
Dimensional characteristics
Maximum diameter over insulation
Aluminium (or alloy) area
Approximate diameter of the bunched cable
Nominal insulation thickness
Electrical characteristics
Electrical characteristics
A.C. Conductor resist. at 90 °C - trefoil formation
Capacity of phase cores approx.
Inductive resistance at 50Hz
Max. DC resistance of the conductor at 20°C
Perm. current rating buried 20°C - trefoil formation
Perm. current rating in air 30°C - trefoil formation
Permissible short circuit current
Permissible short circuit current screen 1s
Voltage drop, single phase
Mechanical characteristics
Mechanical characteristics
Mechanical resistance to impacts
Maximum admissible traction load (Tm)
Usage characteristics
Usage characteristics
Ambient installation temperature, range
Minimum static operating bending radius
Resources
Resources
Selling & delivery Information
Marking
Example NEXANS - plant number- BGN7 NF C 33-226 int. designation- section - AL - 12/20 (24) kV - EDR - year - month -  installation guide type - G sheath thickness - SC semi-conductor thickness - EC screen thickness - C2 RT installation temperature Commercial marking is ink marqued
Core identification: 1, 2, 3 engraved on each phase.
The marking is metric over one core sheath, as well as a tracing mark.
Our websites
Select your country to find our products and solutions