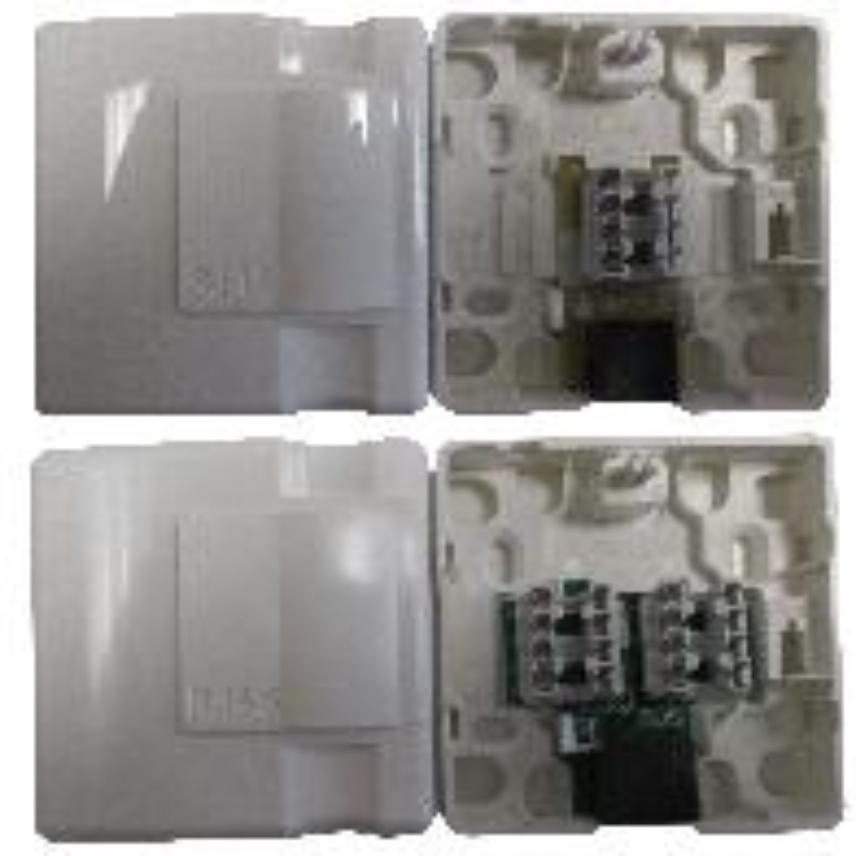 Wall outlet – RJ11 or RJ45
Easy change of old T jack outlet,
Easy connection/disconnection of RJ cord,
BUS function integrated,
RJ45 Version Catégory 5E.
Read more
Description
Description
Standards
National

Orange/France Telecom
The RJ outlets allow to deploy downstream of the DTI-RJ, the RCI or the communication box the home telecom network.
2 outlets are available, RJ11 for a telephone network or RJ45 also allowing the addition of a LAN.
The design of these outlets is specially designed to easily replace the old T-type outlet in the same fixing points and in the same size (no holes to drill, no retouching of paint or wallpaper, ...).
The RJ female connector inside the outlet is arranged with a slight angle to facilitate the connection and disconnection of the cords and allow the installation directly above a skirting board.
The RJ outlets are equipped with a RJ11 or RJ45 jack soldered on a printed circuit board which allows connection by IDC (self-isolating contacts) of:
2 input pairs on the RJ11 version
4 input and output pairs (BUS function) on the RJ45 version
It is also composed of a cover and a base in which the circuit is clipped.
The housing incorporates a plastic tool to make connections on CAD.
For repeated connections and time saving, the OSA3 universal cabling tool is recommended (to be ordered separately).
Dimensions 65x65 mm, Height 30 mm
Wall mounting with 2 screws (not included). DIN rail mounting 35mm possible with additional accessory wall-mounting for wet surface.
Resources
Resources
Selling & delivery Information
Packaging per 10
Our websites
Select your country to find our products and solutions