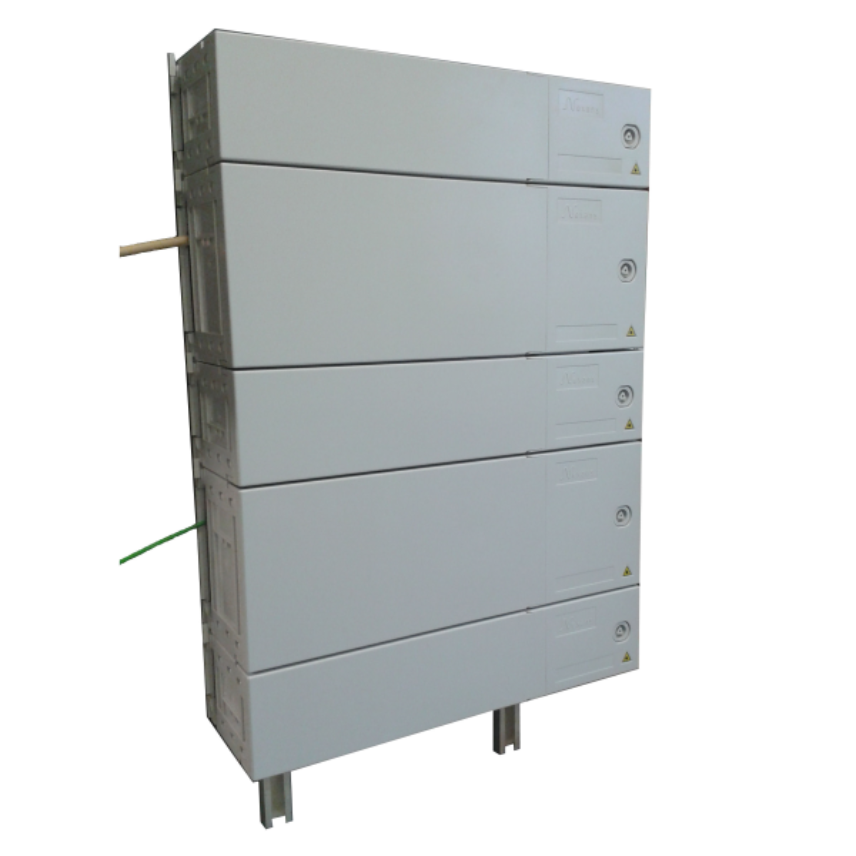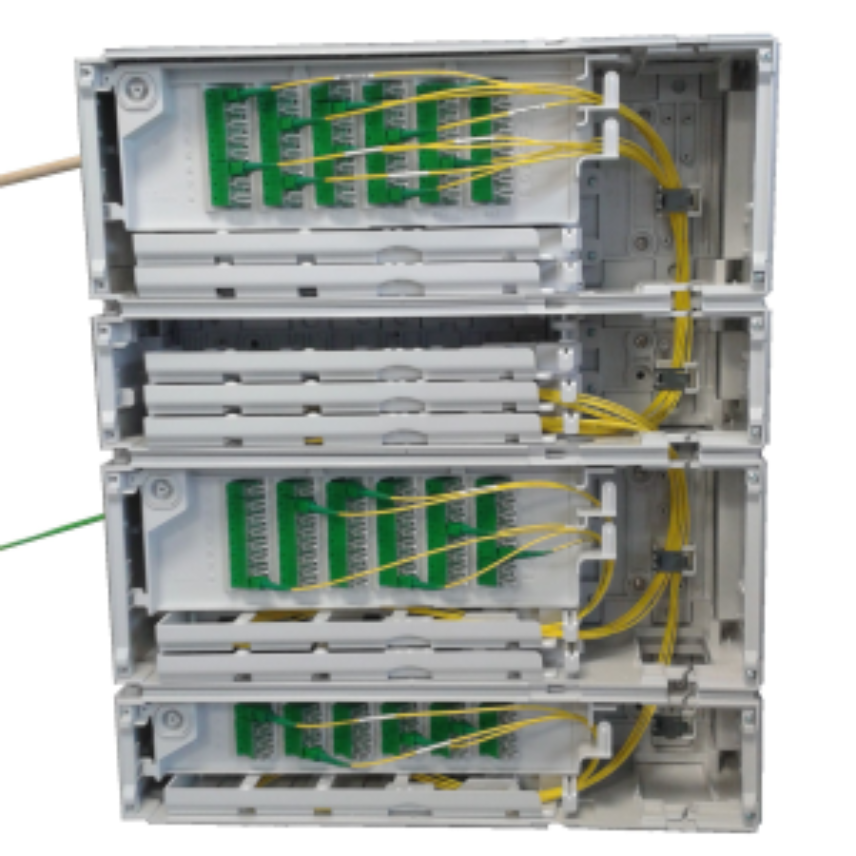 PON and P2P compatible
Front patching between the fibres from operator network(s) and the ones from the riser
Rear security for cable termination features
Splitters integration
Extension by adding boxes
Read more
Description
Description
Standards
International

Nexans specification

National

Orange/France Telecom
The Domino basement boxes range has been especially designed for FTTH networks, to provide a modular solution for node interconnection between the external network and the building distribution network.
Stacking several Domino boxes enables to liaise between several operator networks and each subscriber.
The product range
The range is characterized by a universal housing, and various adaptable internal organisations according to the network configuration.
| | | |
| --- | --- | --- |
| Module height | Adapters maximum number | Splitters maximum number |
| 100mm | 24xSC | 6 splitters SOD |
| 165mm | 48xSC | 12 splitters SOD |
| 210mm | 72xSC | 6+12 splitters SOD |
A unique organizer performs all the cable termination features (splicing, splitting and/or patching, with overlengths management), depending on its cassettes layout.
An integrated swiveling tray allows the management of patchcords overlengths.
For standby fibres management, a version called "Storage" is also available.
Accessibility
The cable crimping is made outside of the box, and then the cable and its crimping plate are fixed in the box.
Quick door-dismantling and front patching enable easy access and identification for the connectors.
The product operation does not need any additional volume after the product installation. Thus, its accessibility is guaranteed whatever the evolution of the installation environment.
Interconnection and security
Domino is fully compatible with equivalent modules on the market.
2 communication chimneys allow the fibres to go from a module to another one in the same stack.
The door is secured with a standard 8mm triangular key. The standard organizer has the same security system.
Domino Basement box
With front patching and swivelling tray to manage patchcords overlentghs, Domino basement boxes are easy to use without "spaghetti" issues (melting, node) on the right column.
Domino stack for Basement box use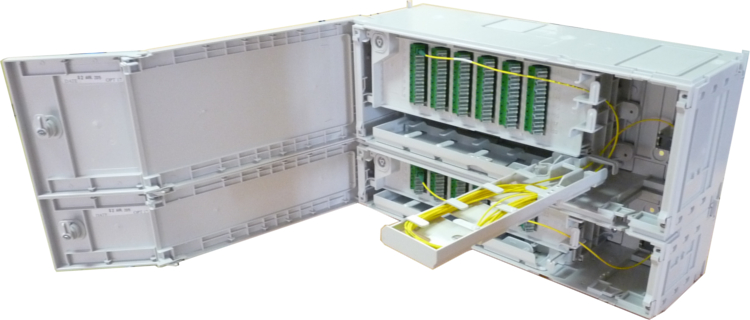 Domino Splicing & Patching: version with splicing cassettes for G657 fibres for connection to riser or point to point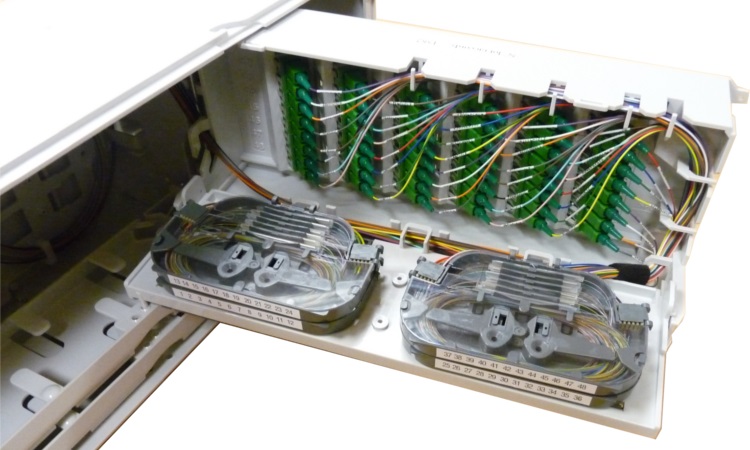 Domino Splitting & Patching: version dedicated for use of splitter (SOD type) in case of point to multipoints/GPON network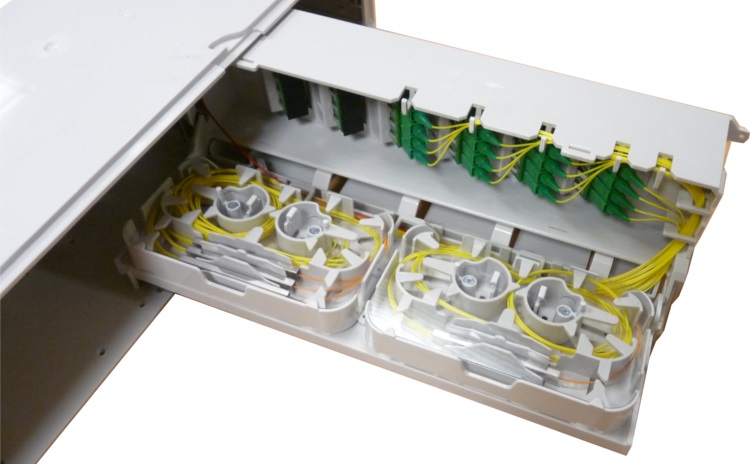 Domino Splitting & Patching: view of cassette to splice trunks of splitters (compatible G652 fibre, up to 12 splices)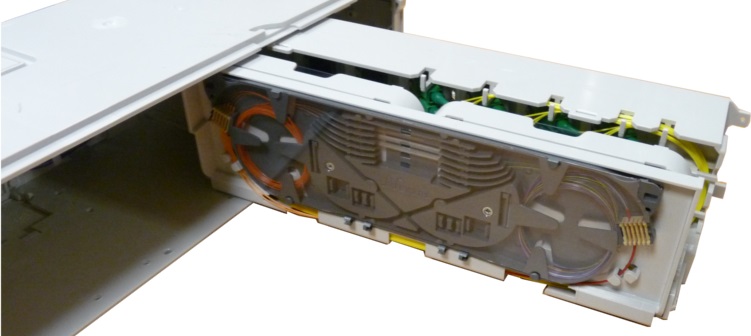 Domino Storage: version dedicated to use and storage of a preterminated riser cable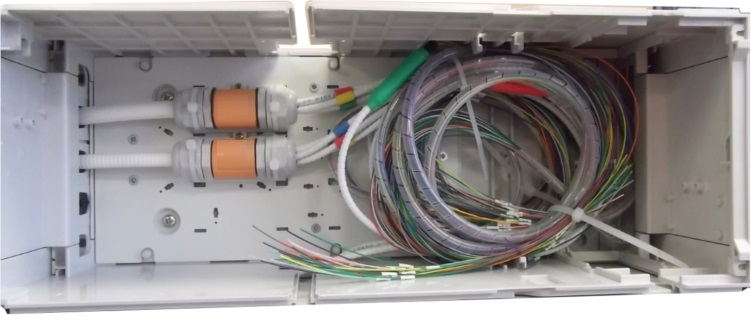 Characteristics
Characteristics
Construction characteristics
Construction characteristics
Dimensional characteristics
Dimensional characteristics
External diameter of the cable "D", range
Mechanical characteristics
Mechanical characteristics
Usage characteristics
Usage characteristics
Operating temperature, range
Minimum static operating bending radius
Resources
Resources
Our websites
Select your country to find our products and solutions