PRE: 24/48 Distribution Cabinet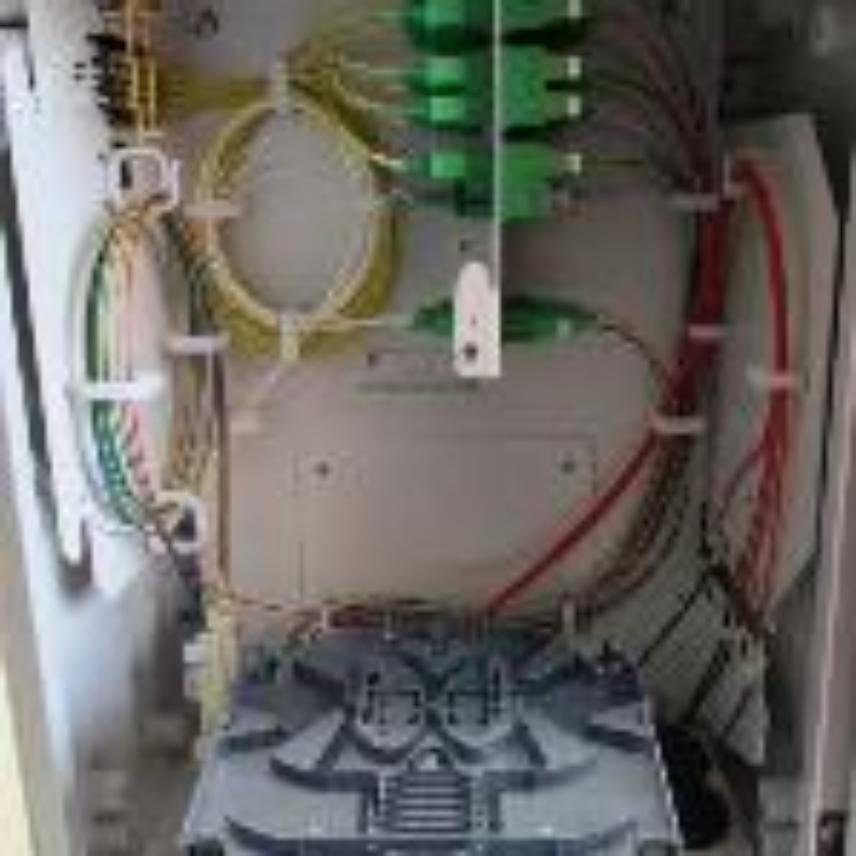 Indoor / Outdoor Distribution Cabinet:
versions for 24 or 48 subscribers
installation on wall, pole or stand alone with a metallic riser (optional)
Built-in wall box for discrete installation
1 cassette dedicated to splitters (patched or spliced)
from 2 to 8 cassettes for subscriber management
suitable for PON as P2P network architectures
robustness and sobriety
Read more
Description
Description
Standards
International

Nexans specification
The PRE 24/48 is a distribution cabinet designed to adapt to as much ground configuration as possible. Its use makes it possible to reduce the complexity of the deployments by proposing a unique reference which can be fixed on a wall, a pole or a riser as an autonomous cabinet.
The PRE 24/48 can be used indoors as well as outdoors (IP55).
Capacity
2 standard configurations are available: 24 or 48 OF. The number of cassettes, each accommodating up to 12 splices, is adapted to your needs and the network architecture used (PON or P2P).
Patching and splicing
3 separate zones make it possible to manage the body of the splitters (SOD), the conectors of the subscriber cables, and the coiling or splicing of the main and secondary cables (or pigtails). Depending on your needs, the PRE 24/48 can be configured in both patching and splicing versions.
Quality materials
While the body of the PRE 24/48 is made of polyester reinforced with fiberglass ensuring a lightness, waterproofness (IP55) and shock abatement (IK10), the moving parts are metallic to guarantee an optimal lifetime of the assembly when intensive uses.
Cable management

Cabinet overview
##image:113951:center##
1. Clamping kit
2. Coiling ring
3. Splitters holders
4. Patch panel
5. Coiling ring
6. Lock lever
7. Parking area
8. Organiser 8 cassettes (delivered as standard)
9. Seals
10. Network cable entry
11. Box
##image:114664:center##
##image:113952:center##
Provided Kits and combs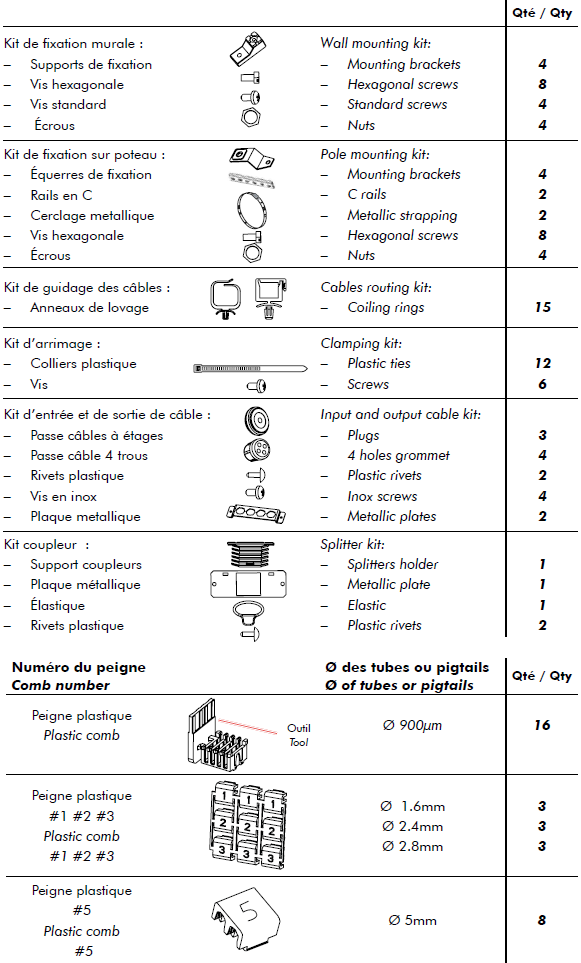 Metallic riser (optional)
In order to fixe the PRE 24/48 on a concrete base, as and stand alone cabinet, a metallic riser can be supplied in option.
Nexans Reference : 10279503
##image:113953:left##
Pole mounting kit (optional)
As an option, the PRE 24/48 can be delivered with a pole mounting kit.
Nexans Reference: 10279749
##image:113975:center##
Characteristics
Characteristics
Construction characteristics
Construction characteristics
Polyester loaded with glass fibre
Dimensional characteristics
Dimensional characteristics
Maximum number of adaptators
Number of branched cables
Mechanical characteristics
Mechanical characteristics
Usage characteristics
Usage characteristics
Minimum static operating bending radius
Operating temperature, range
Resources
Resources
Selling & delivery Information
Delivery in unit package. Metallic riser for stand alone installation sold and delivered separtely.
Our websites
Select your country to find our products and solutions