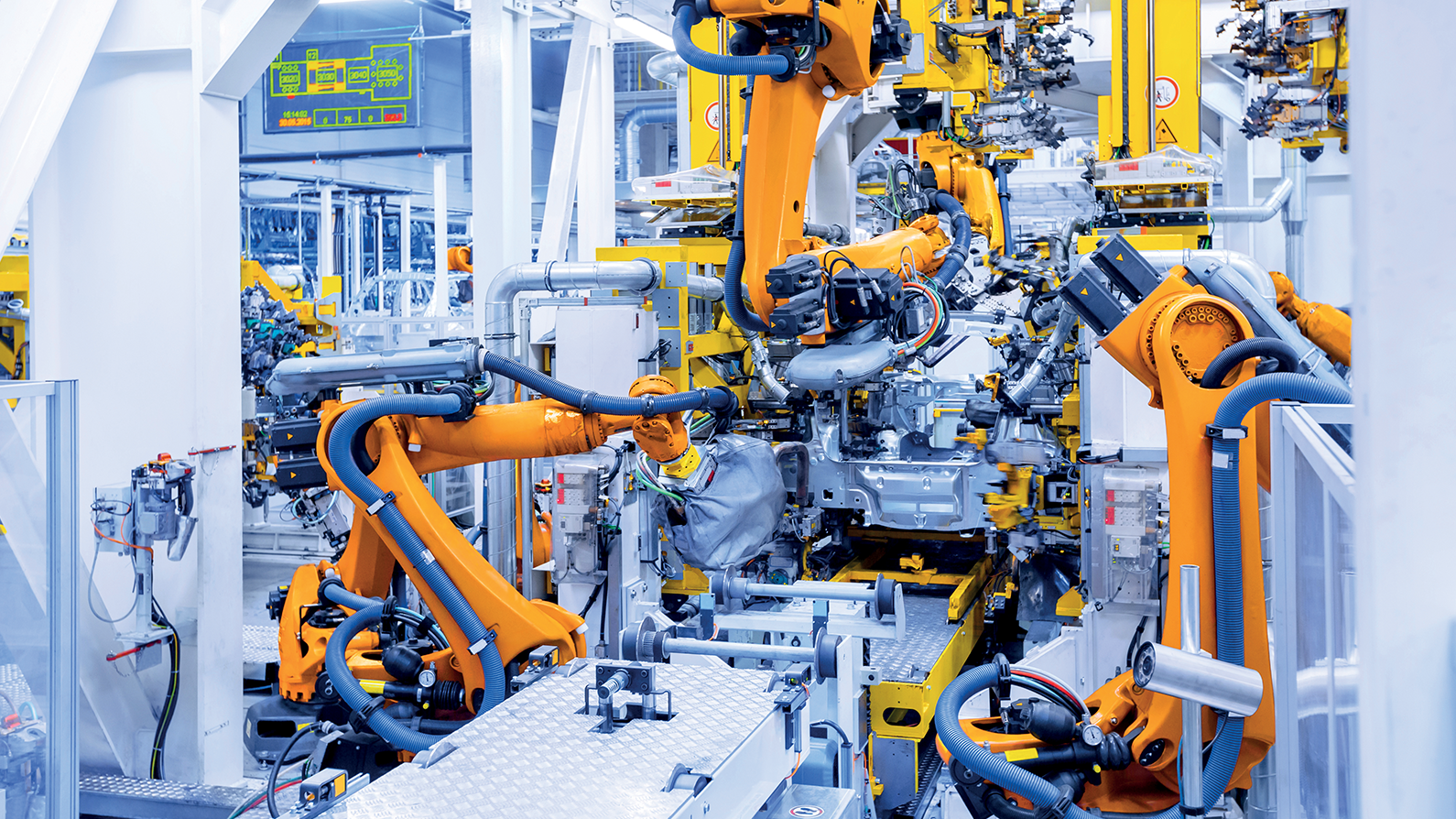 Industry 4.0 has revolutionized manufacturing. Today and tomorrow, connected industrial computers are communicating to ultimately make decisions, reducing human involvement. Smart machine support is making factories more productive and efficient. The network of digitally connected machines that create and share information are the true power of Industry 4.0. Its foundations are IoT, Cyber Physical systems, Industrial analytics, cloud manufacturing, robotics, advanced automation and additive manufacturing. In line with the IoT megatrend, factories are more interconnected than ever.
IoT-connected devices is projected to increase to 43 Billion by 2023*.Thanks to integration of sensors, actuators and Edge Computing, information availability and control capacity continue to improve. That means more reliable forecasts, benefits in terms of flexibility and energy balance, waste reduction, and predictive manufacturing.
Robots will play an even more important role in manufacturing processes, boosting efficiency, safety and revenues. It has been estimated that by 2022, industrial robots will reach 583.520 units installed, with a growth of +12% per year on average from 2020 to 2022**. Advances in computing power, software, standards, and networking have made it easier and less costly to assemble, install, and maintain robots, and link them to production systems. Plug-and-play technologies allow easier connection of sensors and actuators. These can identify and monitor themselves and report their status to control systems, greatly reducing setup time and aiding process control, and they can collect data for maintenance, continuous improvement, and troubleshooting. The latest generations of Collaborative Robots (Cobots) can work alongside humans and integrate information from multiple sensors and adapt their movements in real time.
43 Bil
IOT-CONNECTED DEVICES BY 2023 (SOURCE: MCKINSEY)
583 520
INDUSTRIAL ROBOTS INSTALLED BY 2022 (SOURCE:IFR - EXECUTIVE SUMMARY WR 2019 INDUSTRIAL ROBOTS)
+12%
GROWTH PER YEAR ON AVERAGE FROM 2020 TO 2022 (SOURCE: IFR - EXECUTIVE SUMMARY WR 2019 INDUSTRIAL ROBOTS)
Managing today and tomorrow's vast data growth with experience
Thanks to new trends and applications driven by Industry 4.0, the automation market is growing faster. Sensors, databus, hybrid and power cables will be increasingly installed in smart factories. Relying on decades of expertise and a broad range of capabilities, Nexans can support customers in this new challenge. We provide high-performance cables as specifically designed and customized solutions based on our own R&D and technical support.
Reliability, durability and quality are guaranteed. Nexans manages the complete life cycles of cables - from raw materials to design, manufacture, testing delivery and support. To meet today's flexible production line requirements, we offer cross-industry compatibility, international standards compliance and fast delivery.
MOTIONLINE® : high performance cables to support your success, worldwide
Based on a wealth of knowledge and experience, Nexans develops and manufactures a full range of reliable, dynamic MOTIONLINE® cables to ensure the interconnection, control and process efficiency of machines, robots and production lines, even in harsh environments and high demanding applications. Our global capabilities include three plants dedicated to production of dynamic cables. Our facilities support major machine builders, OEMs and robot manufacturers located all around the world. Our strategic location at the heart of Europe makes our plants perfect for serving customers throughout Europe, whereas our Chinese facilities are ideally located for serving customers in APAC, where the automation market is growing fast.
Our range of products brings increased operational efficiency with reduced capital expenditure. Nexans' portfolio, expertise, proven partner network and global service and support allow us to come up with a solution every time.
Unrivalled solutions that set industry standards
Nexans' MOTIONLINE® brand cables meet key OEM standards and applications as well as major international standards, such as UL, CSA, CCC, IEC. We can also provide cables specifically designed for your needs. In the Nexans Research Center (NRC), we develop optimized copper conductors, jacket materials and cable design. In Our Motion Application Center (MAC), we test our cables, reproducing real-world applications (chain, robots and reverse bending) to provide customers with reliable and high-quality solutions. In combination with our design and customization capabilities, that means a short time to market
Our websites
Select your country to find our products and solutions